​Hi, I'm Reece

I am currently going into my third year of a Graphic Design (BA Hons) degree at Arts University Borunemouth, and this summer I have had the pleasure to be an intern here at Wild Apple Design.

This internship has been a real eye opener for me in the best way possible, it has allowed
me to gain a strong insight into the world of graphic design beyond studying the course;
with this being made possible through having the opportunity to work with the company's
clients, on live briefs and projects which is the most exciting part!

Even on my first day in the studio I was thrown into the deep end within an hour, where I was briefed with a live project that I would be working on for the day, and what I would doing for the rest of the week; the quick turnaround of deadlines for projects is very different to university work, but it has allowed me to adapt the way I design and solve problems to become more efficient and productive with my time.

The team at Wild Apple are more like a family, who make you feel part of it from day one. Studio spaces can be very daunting for a young intern trying to make an impression, and score opportunity, but the relaxed, friendly and calming environment here really made me feel at ease to be able to concentrate on learning new skills and completing work as part of a team with the other designers. Not only is it amazing to be able to work in a converted barn in the middle of the Dorset country side, we are surrounded by miles of fields and wildlife, providing tranquility which you just don't get in a city environment; plus, the dogs love the outside space (there's nothing better than a creative agency with dogs in the studio).

To wrap things up, I have thoroughly enjoyed my summer here at Wild Apple Design and would highly recommend to anyone to take up an internship, even if it's just for a week, it's such a valuable experience that benefits you in so many ways you never thought possible. I have learnt so much here about both graphic design, and myself. I look forward to taking my new skills and confidence through to my third year of study.

Powered by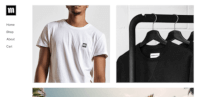 Create your own unique website with customizable templates.